Braden Castle Landscape Pros
Pergola Installation & Construction in Bradenton FL

When it comes to sprucing up your backyard, installing a pergola is a great way to go. Pergolas add a sense of escape, relaxation, and beauty to your planted projects. They give shelter from the scorching sun and can be strung with bulbs at night for a more formal look. You may even place a TV, a fan, and even a nice piece of furniture or a BBQ set behind them. The options are limitless.
We have seen time and again that when clients have their own pergolas erected, their outdoor spaces are used significantly more frequently. Why? For one thing, enduring the heat is far more pleasant! However, it also provides a sensation of calm. The pergola, combined with your landscape or pool, entices you to leave your house in Bradenton, FL, sit outside, and enjoy a bottle of wine. Pergolas significantly improve your outdoor experience. They also increase interactions with others. We've seen that knowing they have a lovely pergola to cater to their visitors encourages our clients to get together more frequently with friends or even host parties.
We at Bradenton Landscape Pros are experts at building pergolas in Bradenton, FL, and we have the manpower and building skills to get the job done! We can create any type, idea, or design of pergola you may imagine. Many of our pergola concepts and plans are created in our computer rendering tool so that you can see the pergola project before it is installed. Finally, we only utilize the best materials and contractors for each construction to ensure that your new pergola is built accurately and securely for many years of enjoyment.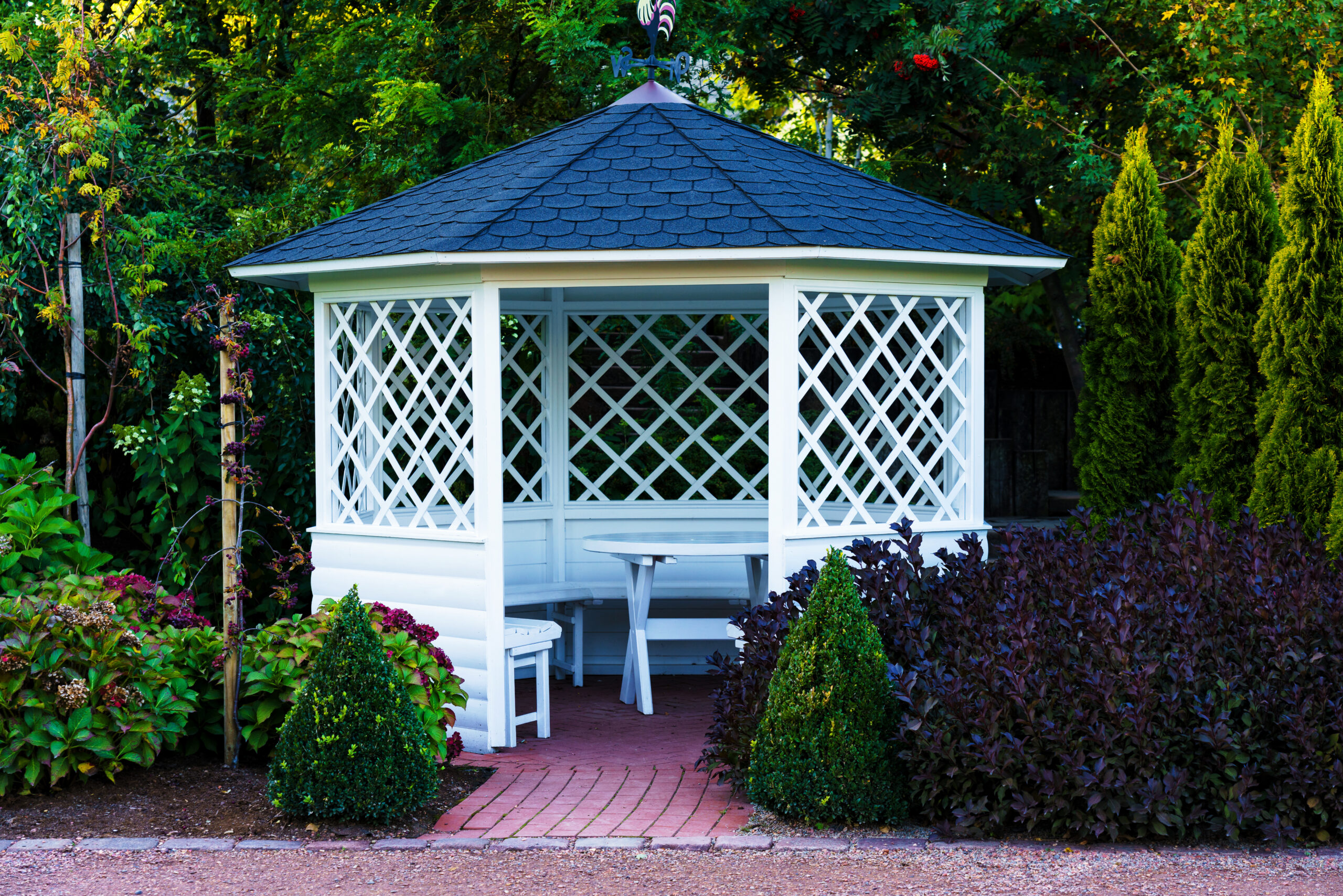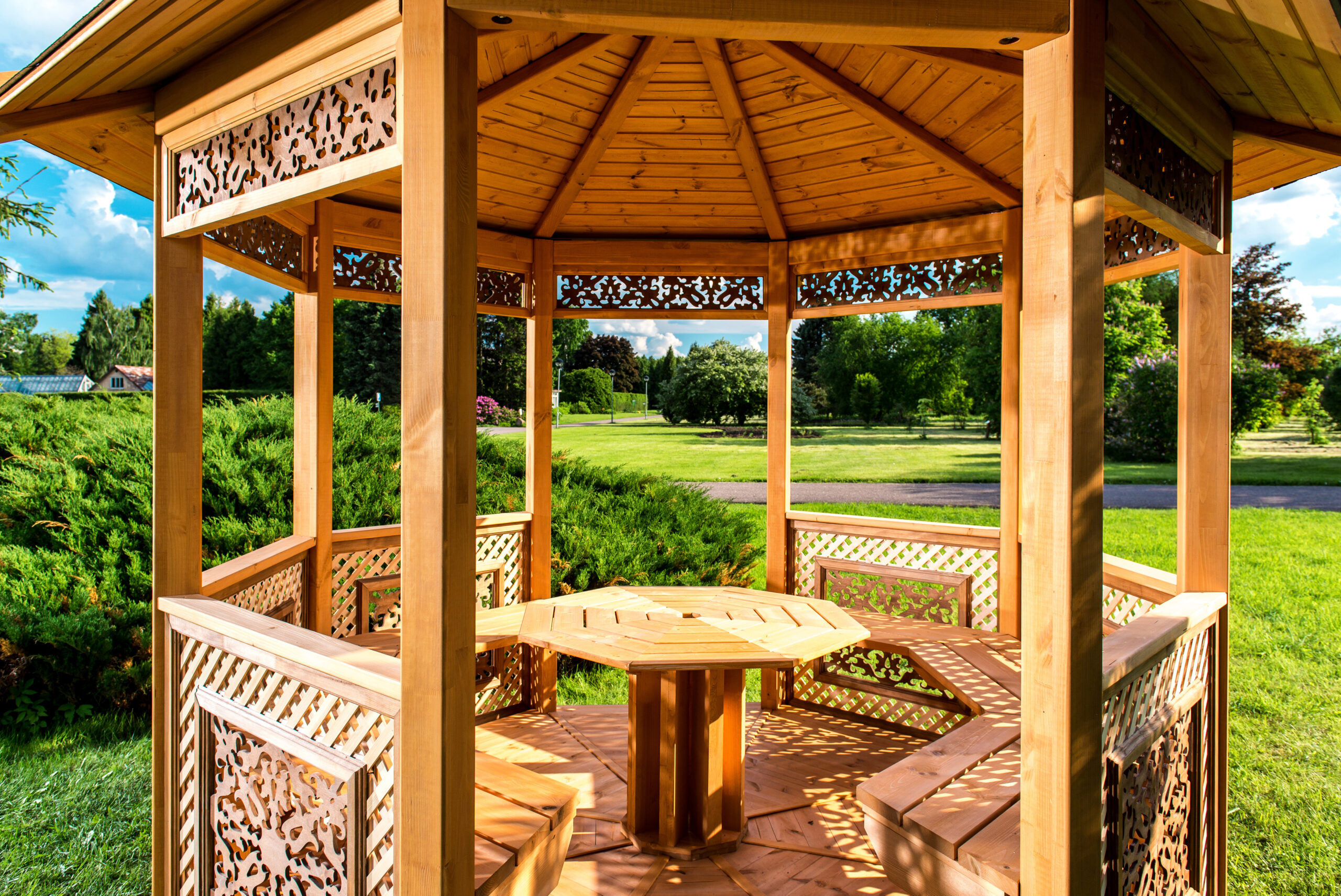 The open roof of a pergola is made up of beams, joists, and slats. Pergolas offer a sense of sophistication to any backyard, making it feel more complete. They are appealing, cost-effective, and simple to install. Pergolas are intended to last and survive harsh weather conditions. Even so, they come in a range of designs and are always custom-built for your property. Natural wood, vinyl, metal, and other materials are available. We enjoy being outside. Especially in the cooler fall and spring months in Bradenton, FL; after all, that's why we live here! Nothing beats being outside under a pergola!
Attached Pergolas
The attached pergolas are supported by your home and built over your deck or patio. Linked pergolas, which are directly attached to an outside wall, connect interior and outdoor living spaces and allow you to effortlessly travel between the two.
Free-Standing Pergolas
Because free-standing pergolas do not require the support of an outside wall, they can be put anywhere in your yard. This option can be utilized to shade an outdoor seating area, a hammock, or shade-loving plants, to name a few possibilities.
Gabled Pergolas
The gabled pergola gets its name from its triangular gabled roof. Because of the high roof, this romantic design will bring character and beauty to your outdoor space while also enabling ideal airflow.
Lattice Pergolas
Lattice pergolas, like a lattice fence, allow filtered sunlight in while keeping the room somewhat covered. These structures are perfect for growing vines and will complement a variety of yard designs.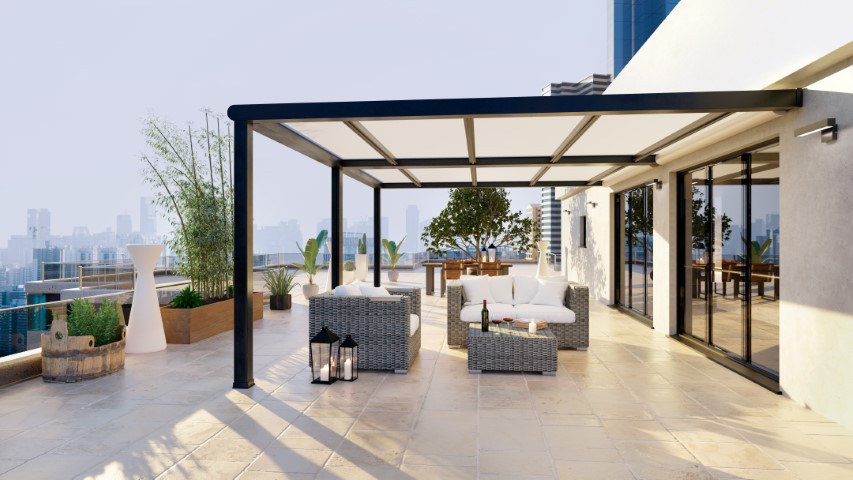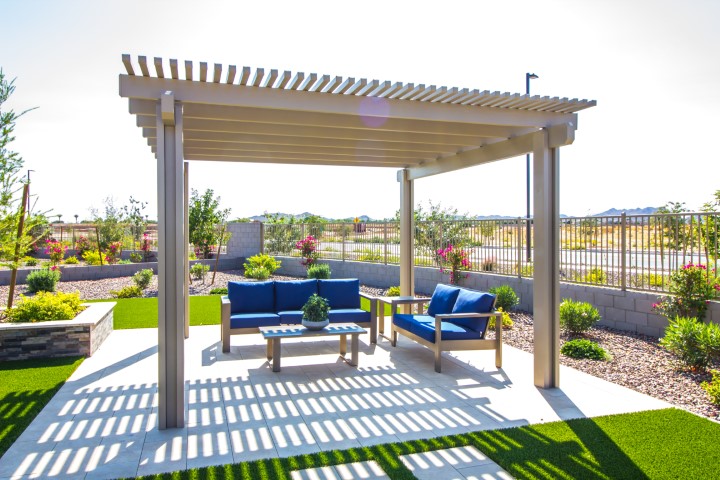 Why Should You Build a Custom Pergola?

Pergolas were among the first outdoor structures that are still in use today. Pergolas are now commonly used as backyard dining areas, poolside gathering areas, and three-season rooms throughout Bradenton, FL. A pergola is a structure with a vertical post or pillar frame and an open lattice or cross beam ceiling, similar to a pavilion but lacking a solid roof. Pergolas are visually appealing as well as functional because they provide sun shade. A custom pergola in your backyard would be an ideal place to celebrate with family and friends! Bradenton Landscape Pros creates beautiful, handcrafted custom pergolas for our customers in Bradenton, FL. We can design and build the pergola that's just right for you, whether you need a shady spot to entertain and dine outside or an attractive spot to host small backyard gatherings. Please contact one of our expert design consultants as soon as possible! Consider the following benefits if you're wondering if a custom pergola would be useful in your backyard:
A large entertainment area is available to guests. Inviting your guests to sit under your new pergola will take outdoor entertaining to a whole new level when combined with savory cuisine and close friends.
It naturally forms a shade canopy. Climbing roses, wisteria, and other trellising vines are ideal for complementing a custom pergola. Your plants will easily climb the pillars and sprawl across the cross beam roof with little help. Natural greenery will add shade and privacy to your custom pergola. Many potted plants will thrive in the pergola's mix of sun and shade.
It provides three seasons of outdoor living space. A custom pergola is an excellent way to add extra living space to your home without sacrificing the integrity of your backyard footprint. Consider adding privacy and sun protection with screens, drapes, and latticework.
Improves the resale value of your backyard. If you want an eye-catching conversation piece that will increase the value of your home, a custom pergola is an excellent choice. If you decide to sell your home, the increased functional and visual appeal will be very appealing to buyers.
What Pergola Styles and Options Are Available?

When you hire Bradenton Landscape Pros to design and build a custom pergola, you are not only working with one of the area's premier pergola builders, but you are also benefiting from one of the most extensive arrays of custom design options available in Bradenton, FL!
Begin by deciding on your pergola's style, materials, and functionality. For your patio, do you want a freestanding pergola or one that is attached to your house? Do you prefer a completely shaded poolside or a more open, airy design that allows some sunlight in? Would a traditional, low-maintenance vinyl pergola or an arched wooden pergola stained in your favorite color be more appropriate for your lifestyle and landscape? Do you want a large pergola to provide a large, bold area for entertaining friends and family, or a small pergola to provide a quiet space for intimate gatherings?
Once you've decided on the right type of pergola for you, explore our many options and features to personalize your pergola and make it uniquely yours. Our customers adore our personalized pergola options, which include:
Planters
Privacy Walls
Lights
Curtains
Retractable Shades & Roofs
With us, your pergola will be unique, just like you! Our knowledgeable pergola designers are available to assist you in deciding on the best design options for your new pergola.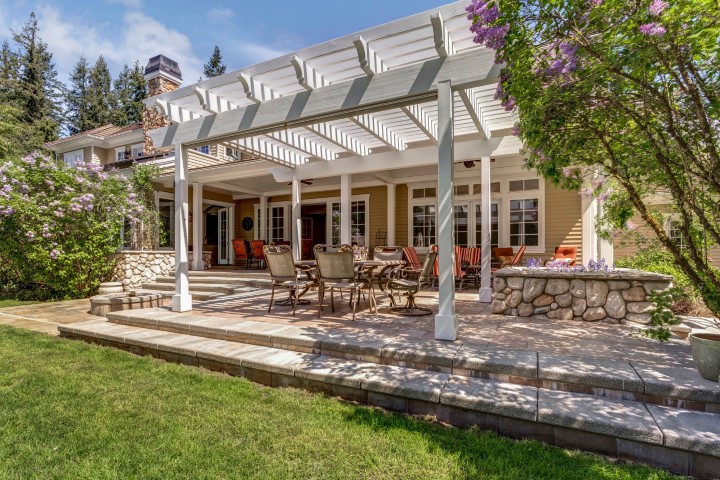 Do You Need a Pergola in a Different Size?

One of the many advantages of designing a custom pergola in Venice, FL is that it can be made in any size you desire. When determining the best size for your needs, consider how many people will regularly sit beneath it as well as the size of the deck, patio, or yard space you intend to cover.
The most common pergola sizes are as follows:
Small to Medium-Sized Pergolas (Around 12'x16')

: This is the most common deck or patio size. Check to see if your pergola appears to be too small for your deck area. It should also not be too large for your deck or patio.

Large Pergolas (Around 16'x24')

: If you have a large deck or patio, or if you want to add luxury features like a fire pit or built-in seating arrangement, this is the size of pergola to consider.
When you decide to build a custom pergola, we can make it any size you want. The only limitation is your imagination!
What are the Advantages and Disadvantages of Vinyl vs. Wooden Pergolas?

Our custom pergolas come in both vinyl and wood. Have you considered the benefits and drawbacks of a wood pergola versus a vinyl pergola?
Many of our Venice customers adore their vinyl pergolas because they require little upkeep and deteriorate almost completely. With a vinyl pergola, they don't have to worry about discoloration, rotting, insect damage, or splintering. With regular cleaning, the classy, elegant appearance of a vinyl custom pergola can last a lifetime.
Some of our customers like the rustic and natural look of a solid wood pergola. Our wooden pergolas come in a wide range of stain and wood species options to suit even the most discerning tastes. If properly maintained, a new wooden pergola will retain its beauty and function for many years. Your pergola professional can help you decide whether a vinyl or wood pergola is preferable for you, guaranteeing that you are totally satisfied with the service for many years to come.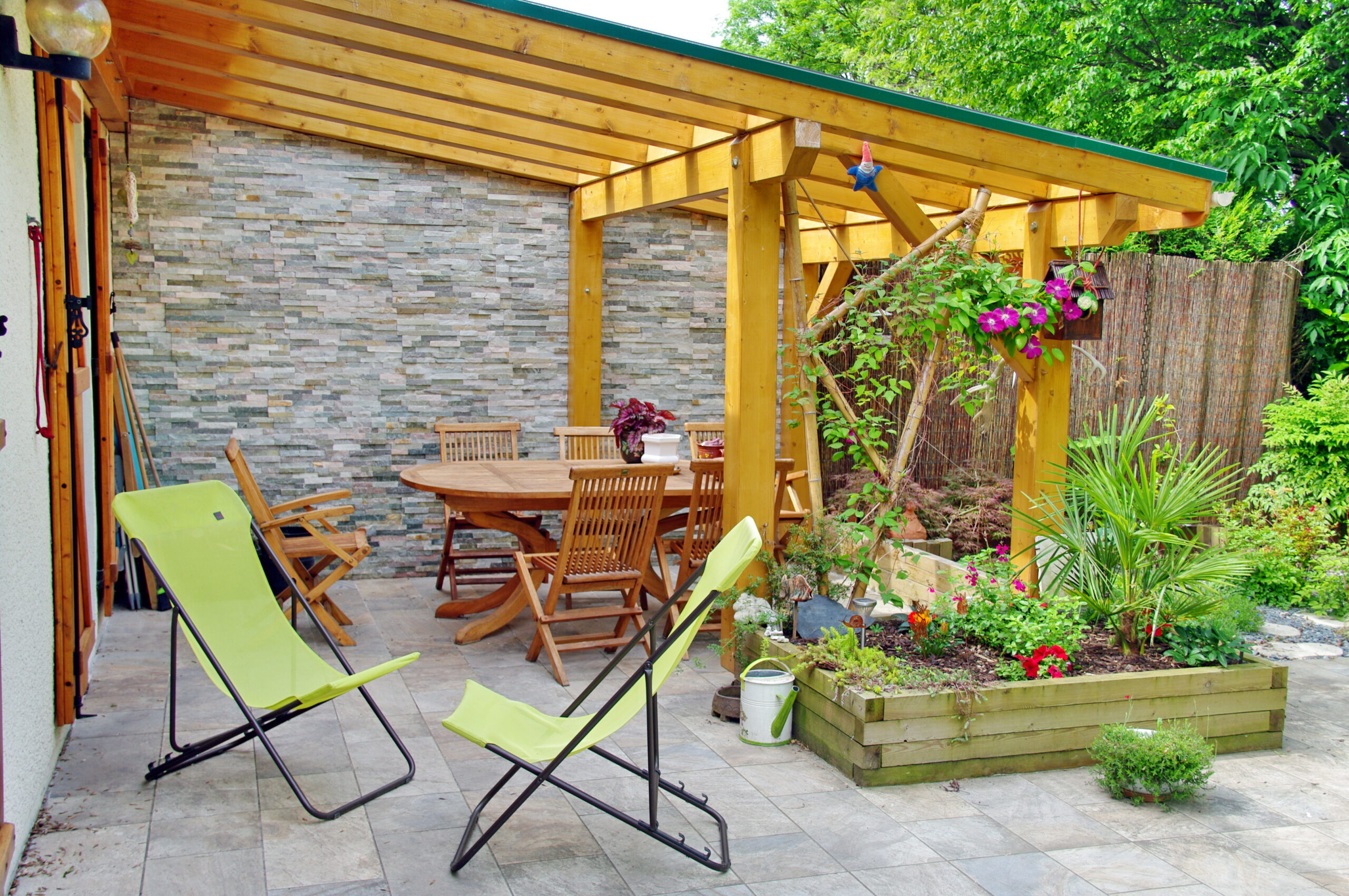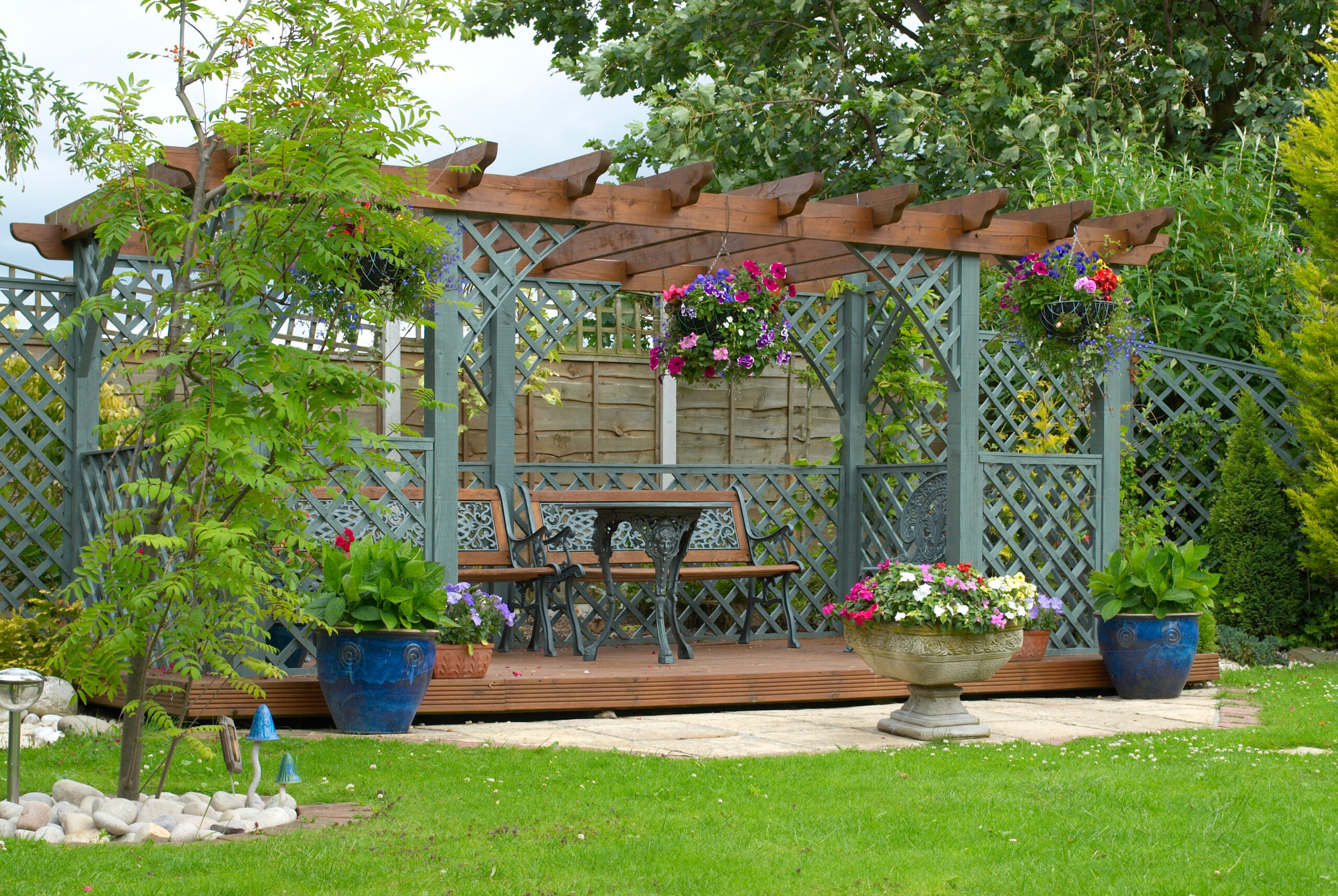 What are the Steps to Creating and Installing a Custom Pergola?

We make pergola design and construction simple for you, from the initial consultation to the final installation. To begin, contact one of our pergola designers in Bradenton, FL and meet with one of our design experts to tell or show us about the custom pergola you envision. If you have any questions about the specifics, our pergola experts will gladly assist you. We'll walk you through the features and options for your new pergola. After you approve the final design, we will schedule the pergola construction and installation.
Second, if your municipality requires a permit, we can help you get one. We have extensive experience working with local government officials to obtain any permits required for your new custom pergola. Our professionals can help you by guiding you through the permit process and obtaining any pergola permits required to ensure compliance with local codes and ordinances.
Finally, while you enjoy the thrill of seeing your dreams come true, our professional pergola craftsmen will arrive on time and begin installing your custom-made pergola. Our pergola installation specialists in Bradenton, FL will work quickly and thoroughly. We will take care of your outdoor space as if it were our own.
Schedule Your Pergola Personal Consultation Today!

So you already know what Style and Design you want to go with? Great! Your pergola will now need to be meticulously prepared in order to accommodate your backyard design. Don't be concerned about designing your dream pergola in Bradenton, FL. We come to your house and walk you through the entire procedure. You will be assigned a pergola designer who will bring samples of all our styles, colors, and previous examples to assist you to construct your perfect design. We will examine your landscape and backyard and inform you of what to expect throughout the pergola installation procedure.
Depending on how busy our calendar is, we can normally complete the pergola design and installation in 3 to 6 weeks. We provide a free planning consultation and will walk you through the full pergola purchasing process. We make certain that you understand what will happen from start to end, including all required labor and costs, so that we can collaborate and have an open and honest relationship throughout the process. We constantly prioritize the consumer! Pergola installations and designs are what we do every day at Bradenton Landscape Pros! We appreciate your confidence and look forward to sending a consultant to your home to begin your dream trip! We adore our Bradenton clients! We appreciate your business and enjoy designing your ideal pergola!